BERLIN – MAY 2022 – STATION-BERLIN –
GLOBAL EXPERIENCE FESTIVAL
CELEBRATE THE CRAFT OF HAIRDRESSING
Not a fair, not an exhibition, not a conference and not just an event. But a really memorable experience in a festival atmosphere. 
Meet our community live in Berlin to exchange, network and share knowledge. Be inspired by the craftsmanship and passion behind our brand, experience creative work on hair by global heroes and young talents, enjoy visionary speeches by high-profile guest speakers, and deep dive into our bootcamps to learn about trends and future visions.

SAVE THE DATE
21st - 23rd May 2022
@STATION-Berlin, Germany
Ticket sales have started. For more information contact your sales representative.


EXPERIENCE OUR WORLDS
Our Experience Festival has a varied tailor-made program attractive for creatives,
technicians and salon business owners. Immerse yourself in our worlds of inspiration & innovation, edutainment, connecting & support.

INSPIRATION & INNOVATION WORLDS
CONNECTING & SUPPORT WORLD
CHILL & SKILL ZONE
Take a coffee, find your place in our break-out zones. Take the chance to talk to like-minded people, spark ideas and be inspired by the community.
Explore our DIY Designer Space to personalise your favourite salon tool with your name, a phrase or go all the way and design your very own festival collection.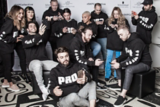 THE LINE-UP
More to come, so watch this space!
FREQUENTLY ASKED QUESTIONS ABOUT: EXPERIENCE FESTIVAL 2022
The Experience Festival will take place in May 2022 at STATION-Berlin, Berlin, Germany.

We are still busy finalising all the details to make this event the best it can be and will release more information as soon as possible. Follow us on Instagram at @schwarzkopfpro to get the latest news and stay tuned.
Most of the programme for the Experience Festival will be in English but we will have language specific programme items and plan to have guided tours and translators that will enable everyone to enjoy the festival.
GET YOUR TICKET NOW!
Please contact your sales representative for detailed ticket information.

TOGETHER
We are looking forward to the Schwarzkopf Professional Experience Festival in May 2022!
The protection of our participants and everyone involved is very important to us, so we will keep an eye on the current COVID-19 situation and carefully ensure all areas have the appropriate hygiene measures. Please support us in this and stick to the code of conduct at the event. Take care to protect yourself and those around you!